Skincare & A-Z Decode. Been exploring for favourite skincare and possible Korean Mediheal face masks but confused what their names and ingredients are all about? Let's OOZZ decode them for you. Time to learn something cool !
If you have been doing some browsing about Korean skincare? Congratulations, you are on the right track to your dream skin regime. While Korean skin care and mask sheets can be  a new thing to us, they have been known for such a long time in Asia like Korea, Japan, Singapore etc. for their super effective in boosting nutrient and reviving skin.
However, if you are still a newbie for such beauty trend, their special name code may be difficult for you to understand. Don't worry, we are here to help.
These are from Mediheal Line Friends, Looking so cuteee, aren't they ? These have been going crazy in Japan thanks to their effectiveness and cuteness overload. Tempting to try out but curious what these I.P.I and N.M.F are?
I.P.I: Intense Perfection Indicator
N.M,F: Natural moisturising factor
W.H.P: White Hydrating Power
PDF: Pure Derma Factor 
E.G.T: Epidermal Growth Treatment
H.D.P: High Definition Pixel
M.E.N: Men's Epidermal Notice
This week we are focus on Mediheal Masks collection, and of course here are the best Korean mask picks for you:
N.M,F: Natural moisturising factor
This adorable mask by Mediheal in collaboration with Line Friends is highly moisturising, pore tightening and anti-wrinkle! It gives nutrition of a whole bottle of serum to skin with its silky Cellulose mask sheet which removes dryness and controls sebum to minimise broadening pores.
H.D.P: High Definition Pixel
This pore stamping mask sheet includes forms officinalis (mushroom) extract, Sodium PCA and Centella asiatica extract which temporarily control the excessive secretion of sebum. Also, the other ingredients in this mask help support skin lifting effect and makes the skin soft and silky. The black mask sheet controls skin greasiness and purifies skin tone.
PDF: Pure Derma Factor 
Another one of the Mediheal Line Friends range which targets skin soothing, sebum control and is anti-wrinkle! Giving nutrition of a whole bottle of serum to skin thanks to its Cellulose mask sheet with silky sense of use. AC Dressing Ampoule Masks are perfect for soothing the skin and acne care.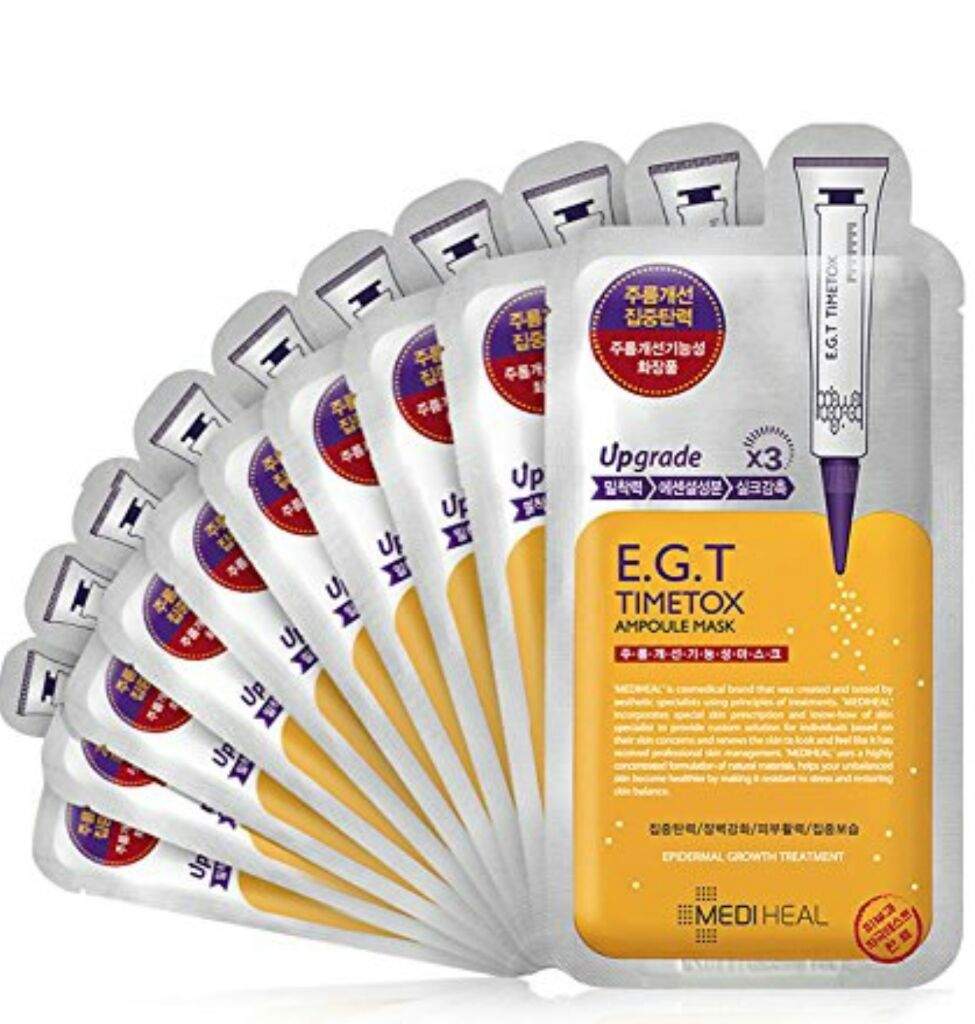 E.G.T: Epidermal Growth Treatment
Mediheal's EGT Timetox Ampoule Mask gives the effect of fillers in which it firms and lifts the skin to improve its texture. It transforms dull and wrinkled skin to smooth and soft skin with its premium blend of natural herb extracts, EGF and peptides. These ingredients promote skin elasticity by strengthening and firming skin tissues. This ampoule mask is free from harsh ingredients and is therefore safe and suitable for people who suffer from sensitive and aggravated skin.
M.E.N: Men's Epidermal Notice
Last but not least, your men need masks too. While shopping yourselves, why not also grab a skin treat for someone you love, so that you 2 can enjoy glowing healthy skins together. OOZZ suggest our favourite men's mask:
Explore full range of Mediheal Mask collection here: 
https://www.oozz.com/face-masks/?p=1&o=5&n=10&s=3
Mediheal masks are well known for their effectiveness and also very affordable. You only need to use their masks once or twice a week, thus the premium pack will last for months. As the price stands, each treatment only costs you from £1.50 but offer the true difference in your skin.
OOZZ is very proud to be the UK's No.1 Korean Mask store and the UK's largest Mediheal retailer.
See you next time for more cool stuffs xx
The OOZZ Team