From around the age of 25 the first signs of ageing start to become apparent on the surface of the skin. Fine lines appear first and wrinkles, a loss of volume and a loss of elasticity become noticeable over time. What you can do about it? Relax, take it easy. OOZZ can suggest perfect solutions for your concern fighting against ageing skin.
What are the signs of skin ageing?
There are three main signs of skin ageing and each one effects facial skin in a different way:
Wrinkles
The first noticeable signs of skin ageing are fine lines and wrinkles. Small, shallow wrinkles known as laughter lines or crow's feet tend to become noticeable at the outer corners of the eyes. These fine lines are followed by wrinkles on the forehead. At first these are only visible when our skin moves as we change our facial expressions and they are known as dynamic wrinkles. As we age further they become more prominent and evolve into permanent wrinkles that are visible even when our face is static. Frowning can cause vertical lines between the brows.
Loss of volume
It can be difficult to identify a loss of volume and facial contours. The first signs of a loss of volume in the lips tends to be when lipstick starts to bleed. A loss of facial volume tends to result in sagging skin, a flattening of the cheeks and the appearance of a "turkey neck". It changes the overall appearance of the face which can look negative, sad or tired. The fold that develops between the nose and the mouth, known as the nasolabial fold, is also linked to sagging skin and a loss of volume.
Loss of elasticity and deep wrinkles
As our skin matures its structure weakens and it loses elasticity and firmness. Skin also becomes drier, appears more `creepy` and loses the radiance we associate with youthful skin. Again, because our skin is as individual as we are, these changes become visible at different ages but are most commonly experienced by those who are 50+.
What cause of Skin Ageing and What to do
Some of the causes of skin ageing are inevitable. Our biological age determines structural changes in the skin and the efficiency of cell functions. These slow down with each passing year. As these are based on genetic issues, there are not much things we can do about. However, there are quite a few of external factors that accelerate skin ageing.
Sun
The sun's rays are the primary external cause of skin ageing via oxidative stress. Skin damage caused by the sun is known as photo-ageing and uneven pigmentation is often one of the first visible signs to appear. And it's not just prolonged UV exposure that causes skin damage; everyday exposure effects skin too.
A sunscreen is literally a must. You can't imagine how important a pea size of sun cream per day to your skin. Don't wait for the pigmentation to appear as it's extremely hard to remove than to prevent. One of the best sun cream in the market is :Ultra Light Daily UV Defense, selected by Telegraph
A lightweight facial sunscreen with SPF 50 PA++++ that helps provide protection against environmental aggressors and premature signs of ageing. 
Hydrate and help protect skin from premature signs of ageing with our lightweight facial sunscreen with broad spectrum SPF 50 PA ++++. With advanced UVA/UVB technology and pollution protection, our formula helps defend against UV rays and pollution. Our daily non-comedogenic sunscreen provides all-day hydration and absorbs quickly into the skin.
Helps protect skin from environmental aggressors including UVA/UVB rays and pollution which can cause premature ageing
Lightweight formula absorbs quickly into the skin, with an invisible finish
Formulated with advanced UVA/UVB technology and pollution protection
Tested under dermatological control
Non-comedogenic
Suitable for all skin types, including sensitive skin
Pollution
Exposure to pollution, most commonly in cities, can trigger the release of skin damaging free radicals. Pollution also worsens the effects of sun exposure accelerating oxidative stress. This is why JayJun  created 2 masks dedicated for Anti-pollution factors that are dedicated to women living a bigger cities and exposing to dust, pollution on daily basis.
The skin soothing active ingredients included in this skin-brightening mask pack, seep deep into the skin and make the tired skin from fine dust look lively and clean and the skin brightening ingredient Niacinamide brightens up the skin.  It is a skin brightening and wrinkle care double-functional cosmetic that brightens up the dark skin around the eyes and by delivering nutrients deep into the skin, it makes the eye areas tight.
Link to buy: https://www.oozz.com/product/jayjun-anti-dust-whitening-korean-face-sheet-mask-pack-of-10/
Jayjun Anti-Dust Therapy Korean Face Sheet Mask, Pack Of 10
Another Jayjun mask focuses on anti dust therapy. There are 3 separate treatment packed on the same packaging.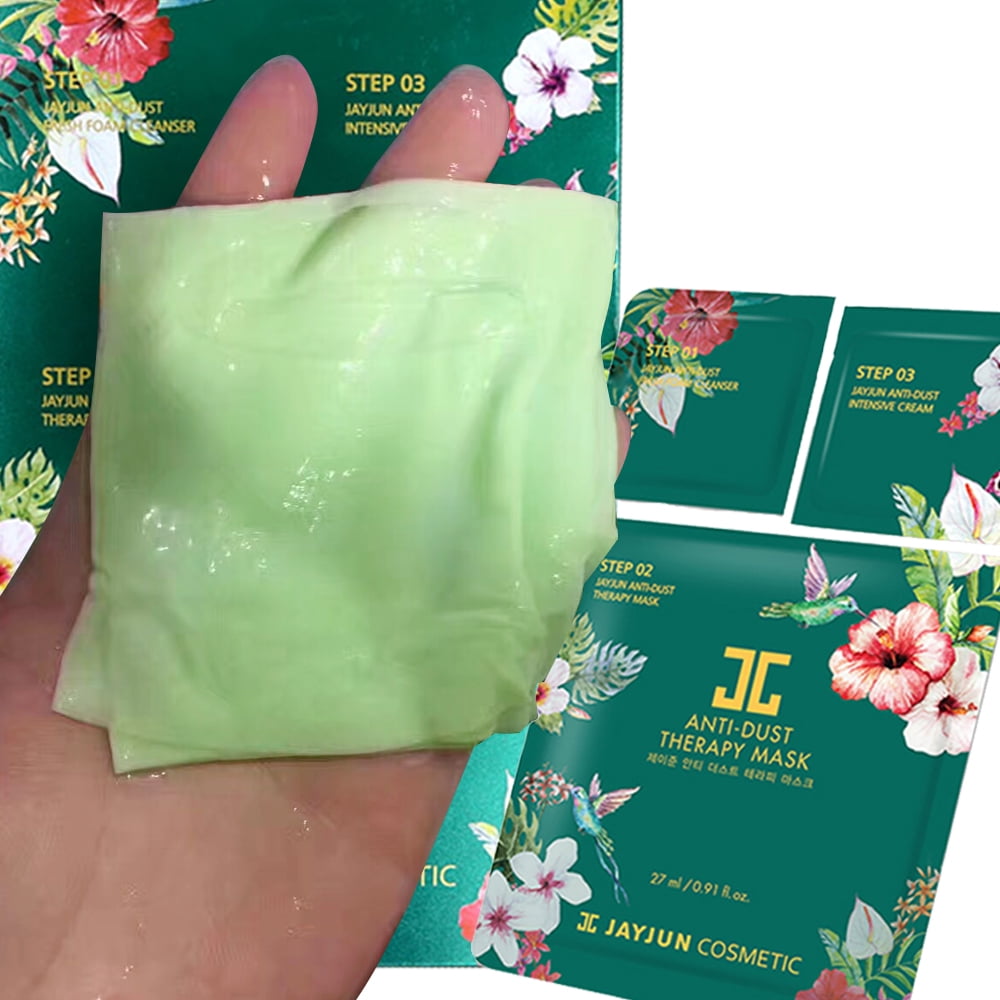 A 3 step mask pack that helps with preventing adhesion of fine dust.
STEP 1 Jayjun Anti Dust Fresh Foam Cleanser
It is a soft-textured cleanser that thoroughly removes air pollutants, fine dust and makeup residue stuck on your face with tiny bubbles and supplies ample moisture to prevent dryness.
STEP 2 Jayjun Anti Dust Therapy Mask
It gives you firm and clear skin by soothing irritated skin from the external harmful environment and by strengthening the skin barrier
STEP 3 Jayjun Anti Dust Intensive Cream
The nice creamy texture helps it to easily sink into the skin and soothe irritated skin from the harmful external environment and it keeps the skin hydrated by creating a moisture barrier on the skin.
Link to buy: https://www.oozz.com/product/jayjun-anti-dust-therapy-korean-face-sheet-mask-pack-of-10/
Smoking
The chemicals and nicotine contained in cigarettes are responsible for an upsurge in the number of free radicals in the skin. Like pollution, they intensify the effects of sun exposure leading to oxidation stress. It's not the easiest thing to quit smoke, but think about how healthy skin you will enjoy, may be time to consider quitting smoking?
Nutrition
Antioxidants are molecules with the ability to neutralise the free radicals that damage skin and speed up skin ageing. Eating lots of antioxidant-rich fruits and vegetables is an important part of caring for our skin as it ages.
A list of antioxidant-rich fruits
Wild Blueberries
Strawberries
Plums
Oranges
Grapes
Cherries
Mangoes
A list of antioxidant-rich vegetables:
Kale
Broccoli
Spinach
Beets
Underestimate Use of Anti-Ageing Skincare 
Skin will age more quickly if it is poorly cared for or if you use products that irritate skin. Thorough cleansing using gentle products appropriate for skin type, together with the regular application of care products targeted at skin's primary concern, will help to care for skin. Good skin treatment will result in long term healthy and radiant looking skin, and make a perfect base for make up.
We will help you choose best Korean anti ageing face sheet masks that everyone is obsessed with right now. Yes, you are welcome.
This Alaxo 2-step mask aims to solve eye area trouble by eye patch and express water light skin by mask pack! Wrinkles, dark circles, spots, eye area worries which are more concerned than any other areas, get intensive care by eye patch and put water light mask pack to solve skin troubles perfectly.  You can see a great improvement to skin after couple of use. A pack contains 5 sheet masks, so it's worth trying 🙂
Link to buy:https://www.oozz.com/product/alaxo-mermaid-tears-2-step-korean-face-sheet-mask-pack-of-5/?c=92
Another mask from Alaxo, but contain richer moisture and more intensive treatments for skins with more obvious ageing signs.
This Alaxo Mermaid Princess mask features intensified moisturising thanks to the rich Betaglucan ingredient. It also aids wrinkle improvement and soothes the skin at once. Clear skin is achieved thanks to Niacinamide which makes your skin clear, clean, and confident. Natural plant extract makes your skin safer and healthier with natural ingredients such as chamomile leaf extract and witch hazel extract leaving skin feeling soothed. This mask is dedicated for sensitive skin to normal skin, so you know it will be super nice and gentle to your skin.
Link to shop:https://www.oozz.com/product/alaxo-mermaid-princess-korean-face-sheet-mask-pack-of-10-sheets/?c=92
You might have heard a lot about Collagen's health benefits, so we really think you're going to love this mask. The Mediheal Collagen Impact Essential mask is an essential mask formulated with marine collagen and elastin to provide effective miniaturisation and skin elasticity. This mask revitalises fatigued skin as it helps retain moisture and soothes irritated and damaged skin. It helps make the skin rejuvenated, firmer, plumped-up and younger-looking. It contains components such as hydrolysed collagen and hydrolysed elastin which will put the time back and form a moist essence film on your skin. Use of the cellulose mask sheet with its silky touch fitting even fine wrinkles aids intensive care and delivers the efficacy of the high-concentrated essence more mildly.
Link to buy here: https://www.oozz.com/product/mediheal-collagen-impact-essential-korean-face-sheet-mask-ex-pack-of-10/?c=92
Labottach T-zone AG Korean Face Sheet Mask, Pack of 2
This Labottach t-zone patch is one of very few mask sheets in the market that focus strongly on wrinkles on forehead. It restores the elasticity of the forehead and provides an antioxidant effect for the forehead zone. A specially developed form of the patch provides a convenient and easy to use application.
The patch is perfect for night skincare routine. It is recommended to use for 6-8 hours. The main ingredients of hydro-gel patches are natural – chemical synthetic ingredients are NOT used. Clinically proven effect. It is also made in Korea. 
Link to buy: https://www.oozz.com/product/labottach-t-zone-ag-korean-face-sheet-mask-pack-of-2/?c=92
Labottach also have another dedicated masks to tackle wrinkles around eyes, especial under eyes & eye bags. The skin around eyes areas are extremely dedicated and sensitive, They are likely the the first places that show the age-ing sign on your face, especially if you have makeup on.
The Revitalisation Hydrogel Eye Patch is perfect for moisturising the skin under the eyes, supporting the tenderness of the skin, reducing bags and wrinkles and also targets dark circles. It also has an amazing cooling effect. The package contains 4 pairs of patches, it is recommended to leave patches under the eyes for at least one hour or for a better result at night for 6-8 hours. The main ingredients of hydrogel patches are natural – chemical synthetic ingredients NOT used. Clinically proven effective.
This is absolutely our favourite mask among the Anti-Ageing collection. Leaders Insolution was launched in 2004. Leaders dermatology specialists formulated safe and potent ingredients in an effort to help patients with their skin problems. They deeply understood the importance of beautiful skin and its impact on their patients' self confidence. Leaders Cosmetics is fully committed to bringing out the best in our customers and restoring their skin to its most beautiful potential.
Leaders Aquaringer Insolution Skin Clinic Korean Face Sheet Mask, pack of 10 is an intensely nourishing facial mask sheet contains amino acid complex & Pure Water from the Alps provides intense & long-lasting hydration while restoring oil moisture balance. Blended with natural moisturising factor (NMF) to remove dead skin cells Reduces the appearance of wrinkles & fine lines Unveils a smoother, more elastic, radiant & healthier looking complexion Perfect for all skin types, especially great for dry skin. Paraben free & dermatologist tested.
Link to buy:  
https://www.oozz.com/product/leaders-aquaringer-insolution-skin-clinic-korean-face-sheet-mask-pack-of-10/?c=92
If you use Korean Mask, Dr Jart is highly likely one of the first brand that you heard of. The brand is one of the Leading Korean skincare in the world, particularly popular in US, and Europe apart from Korea. DrJart has won many prizes so far:
BEAUTY AWARDS

From Marie Claire, Cosmopolitan, Allure, GQ, Refinery29, Health, GlowPick, Magazine Beautiful, Powder Room, SURE, Singles Magazine, Styler's, Beauty+, Ceci

DESIGN AWARDS

From iF Design Awards, The N Awards, The Korea Grand Prize, Ministry of Commerce and Industry, World Class 300

GOVERNMENT AWARDS

From The Japan Drugstore Association, National Productivity Awards, 54th Trade Day
This Dermask Intra Jet Firming Solution™ is made with a thermo-sensitive gel, where body heat activates the active ingredients to penetrate deeply into the skin. Bio-peptide restores the appearance of healthy skin structure by supporting natural and elastin synthesis. Coenzyme Q10 and beta-glucan works together to maintain and promote skin elasticity while lifting and firming the look of sagging skin for a youthful appearance. A cellulose sheet mask that promotes the skin's elasticity and firmness.
We have best prices for Dr Jart in the UK, and here is the link to buy: https://www.oozz.com/product/dr-jart-dermask-intra-jet-firming-solution-korean-face-sheet-mask-pack-of-5/?c=92
4 Anti-Ageing Mask Sheets that are only: £1.50
One of the best thing about Korean Face mask is they contain full of goodies but start from extremely affordable price. In this case, we picked you 4 masks that are only £1.50 (wow, it's like half of your Starbucks' coffee you buy everyday). Further more, these mask from The Face Shop and Natural Republic are made of natural ingredients, so that you can still use with sensitive skin.
How to use
1. Wash face and apply toner
2. Pull out mask and carefully place on face
3. Remove after 10 to 15 minutes and pat face lightly to absorb remaining essence into skin.
Link to buy:
Acai Berry: https://www.oozz.com/product/nature-republic-real-nature-acai-berry-korean-face-sheet-mask-1-sheet/?c=97
Royal Jelly: https://www.oozz.com/product/nature-republic-real-nature-royal-jelly-korean-face-sheet-mask-1-sheet/?c=97
Green Tea: https://www.oozz.com/product/the-face-shop-real-nature-korean-face-sheet-mask-green-tea-1-sheet/?c=97
Ling Zhi: https://www.oozz.com/product/the-face-shop-real-nature-korean-face-sheet-mask-lingzhi-1-sheet/?c=97
Shop all our Anti-Ageing Sheet Masks here: https://www.oozz.com/face-masks/skin-concern/anti-ageing/
Don't forget to use: HELLO20 for 20% First Orders. Free UK shipping for orders over £40 and Free International shipping  on orders over £50.
Have you used any of these masks or plan to use them? Did we miss any good masks that you also love? Do you have other skin concern that need us to recommend the best masks for,  Leave us a comment in the box and we will follow up in future blog posts.
Have #maskmonday from the OOZZ Team!